Adding Measurement Units
This page will explain how to add Measurement Units.
Before adding any stock items or categories you first need to create your stock units. These can be used to create recipes in the menu section as well as organising orders.
Note:The unit list is not pre-populated, every measurement needs to be entered.
It is recommended to specify the product rather than using generic units.
Firstly, to access the 'Measurement Units' page, press 'Stock Management' in the left-hand side column, then the 'Measurement Units' option in the menu. As shown below:

Adding a Unit
Click Add Unit at the top right of the screen.

Then a pop-up should appear. As shown.

2. In the pop up box, enter fill in all the fields, Rule Name, Parent Unit, Child Unit and Unit Conversion.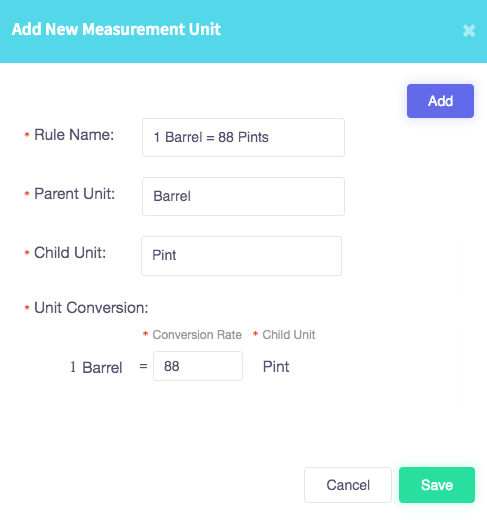 3. Once you've filled in the fields, click Save.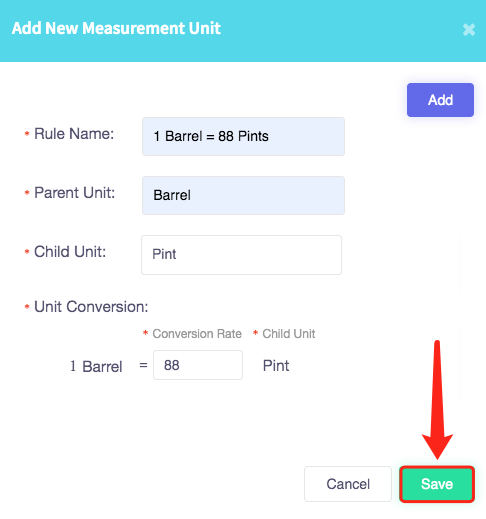 4. Your Unit will then be displayed in the Unit List.

Editing a Unit
Click the icon next to the unit you want to amend.
In the pop up box, make the changes.

Click Save.

Deleting a Unit
Click on the blue Delete icon next to the unit you want to delete.

Click Yes when the message "Are you sure you want to delete this unit?" appears.

Your unit will then be deleted and removed from the 'Unit List'.
Note: This action cannot be changed once it's been deleted.